"In addition to the AI (Artificial Intelligence) race, a spotlight should be put on machine learning." AI has achieved breakthroughs in algorithms, all industries attempt to leverage AI's advantage through innovation, which allows AI to permeate into our daily life including financial services, manufacturing, service providing, transportation and healthcare. To implement AI, Robotic Process Automation (RPA), a computerized automation system, has to be first introduced. RPA handles the repetitive and patternized work in daily business operation, so enterprises can focus on business which creates value for their customers, improves operation efficiency and accelerates corporate decision-making.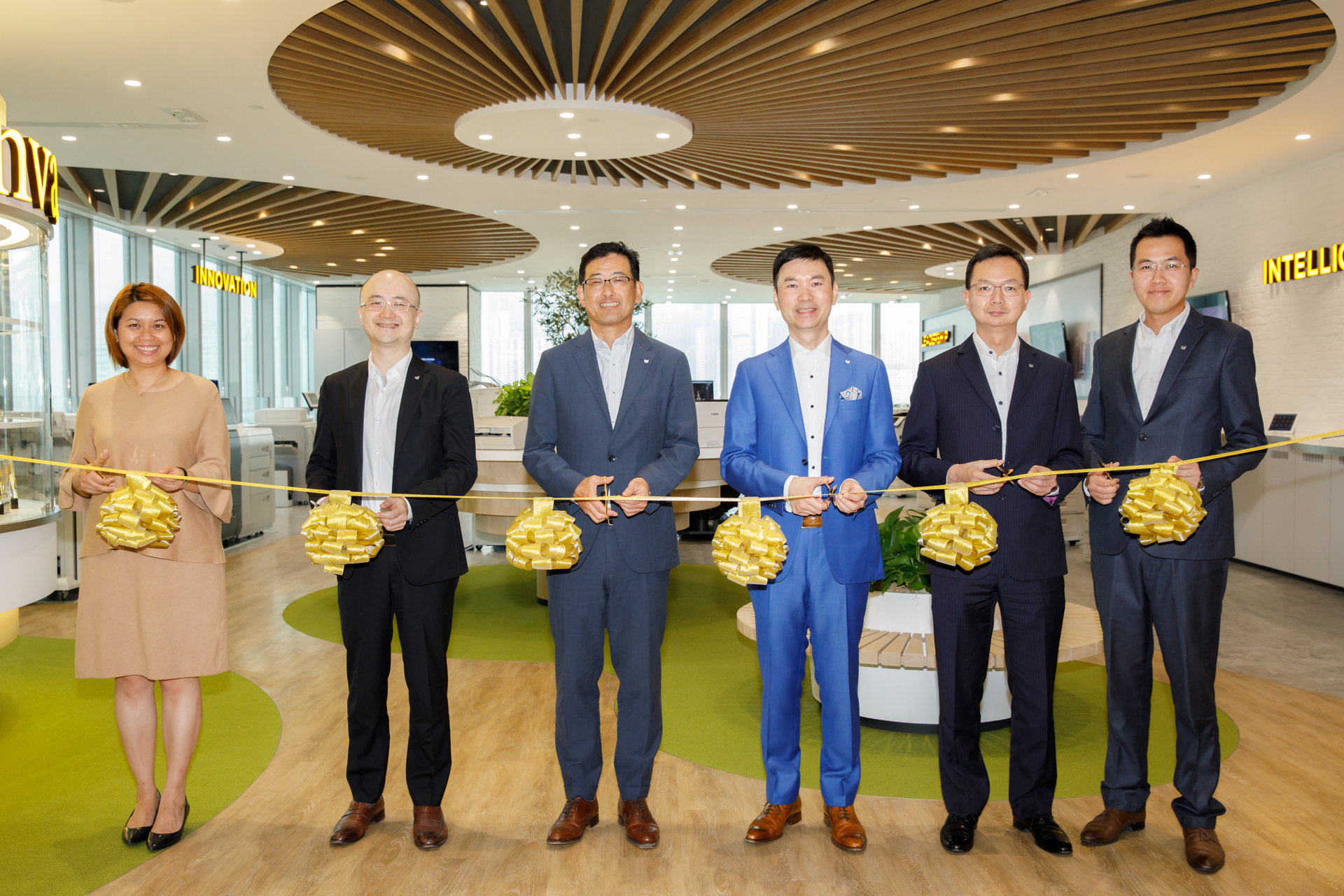 (From left) Ms. Carman Kwong, Assistant Director of Market Engineering Administration & Technical Service Division, Business Imaging Solution & Production Printing Group, Canon Hongkong; Mr. Louis Hui, Assistant Director of Marketing & Strategic Planning Division, Business Imaging Solution & Production Printing Group, Canon Hongkong; Mr. Shunichi Morinaga, President and CEO of Canon Hongkong; Mr. Philip Chan, Director and General Manager of Business Imaging Solution & Production Printing Group, Canon Hongkong; Mr. Johnny Ha, Assistant Director of Sales Division, Business Imaging Solution & Production Printing Group, Canon Hongkong; and Mr. Vincent Leung, Senior Manager of Business Services & Solution Division, Business Imaging Solution & Production Printing Group, Canon Hongkong officiated the opening ceremony.
As a pioneer in enterprise imaging solutions, Canon Hongkong is dedicated to creating innovative printing and business imaging solutions to assist in corporate development. The renovated Canon Hongkong's head office adopted the idea of open office to promote cooperation and communication in the workplace, hoping our fellow colleagues will find the new workplace interactive and comfortable. In "Meet the FUTURE" news conference, Canon Business Experience Center has now officially opened. The center boasts four experience zones based on the principles of INTELLIGENCE, LEADERSHIP, INNOVATION and SUSTAINABILITY, providing enterprises with business solutions and products in AI, RPA and big data integration, hence elevating enterprises' capabilities in industry leadership, business intelligence and creating opportunities. The solutions and products provided can also optimize operating efficiency, liquidity and productivity while achieving sustainable development, which paving the way for enterprises of the future.
"Meet the Future" Press Conference introduced Canon Business Experience Center with experience zones of four key elements: INTELLIGENCE, LEADERSHIP, INNOVATION and SUSTAINABILITY, utilized the most innovative technologies to support enterprises to enhance productivity and minimize overall cost of business operation.
Mr. Philip Chan, Director and General Manager of Business Imaging Solution & Production Printing Group, Canon Hongkong, said, "The brand new Canon Business Experience Center is a state of art facility that combines intelligence and innovation with our product lines. It gives our customers an experience of the next-generation digital workspace. All technology adopted are gradually integrating with AI and RPA technologies, from digital document management, network video solutions to comprehensive large-scale production lines, the digital workplace will help maximize corporate potential."
INTELLIGENCE - Mastering Business Intelligence
In 2017, The Economist suggested that "The world's most valuable resource is no longer oil, but data". Leveraging AI to enhance data analysis capabilities is the irresistible general trend. Unlike oil, data is not a finite resource, but more process and refinement are required before it reveals its value for effective business decision insights. Application of AI has become more common in nowadays workplace. This complicated software tools is capable of executing routine and subordinate duties. It can also help with processing, analyzing and compiling data collected, which lessens the daily workloads of employees. The rapid development of AI can never be neglected. This technology may even able to reveal any inconsistence or error in decisions made by humans, resulting the dependence on AI being more appealing.
Apart from textual and statistical data, video information are also utilized to analyze the performance of business promotion and operation optimization. Video data does far more than security monitoring; by combining Canon's network cameras, video management systems and video analysis applications, our Video Analytics Solution (VAS) helps enterprises to capture and analyze vast amounts of data in real time and transform it into forward-looking business information.
Employing VAS allows central management of single and multiple retail brands and department stores, from which AI's machine learning technology can accurately collect a wide range of marketing data, including number of customers, age, gender, race and flow. With the help of the data, enterprises may quickly response to market needs through flexible manpower deployment, popular products rearrangement and promotional activities formation based on sales at individual locations. This allows not alone effective distribution of resources, but also elevates customers' experience at the retail. It also helps enterprises to understand customer traffic distribution in specific areas and time slots, so as to better understand operational performance when comparing these data side by side with sales data, hence optimized operating efficiency, strategy planning and promote revenue growth.
Canon's brand new Customer Analytics Solution SMARTDisplay features Facial Recognition and Radio-Frequency Identification (RFID) to help physical stores capture the characteristics and buying preferences of their customers, which comprehensive and multi-dimensional analysis of specific products and in-depth understanding of customer base is made possible.
Data captured by VAS and SMARTDisplay is sent to a video analytics application which compiles the information into simple and intuitive graphical reports that managers can easily access on their computer or mobile device at any time to follow sales and trends in real time. The 24x7 automated data analysis not alone helps avoid errors derived from repeated data entry, but also increased work efficiency, such that corporations can respond to time-sensitive business activities. With less issues to worry, enterprises can focus on important decision-making and communication, thus improving working efficiency.
LEADERSHIP - Staying At The Forefront
RPA technique is regarded as the starting point of business operation transformation and digitalization, replacing manpower on high-volume tasks that are highly repetitive and require consistency. This allows human resources to focus on business decision-making, strategic planning and creative works coordination. In fact, RPA has been gradually assimilated with various industries. Repetitive and rule-based tasks in banking, financial services and insurance industry, such as loan application, claim processing, customer data update, customer management and report generation etc, have begun to be taken over by RPA system. This can significantly improve agility and accuracy, meanwhile reducing overall operational costs.
Furthermore, leveraging cloud applications to enhance enterprise operating efficiency and responsiveness is nothing new nowadays, mobile devices paired with cloud technology to assist business information exchange are widely adopted in every aspect of work. Simple yet work-intensive document processing can be benefited from adopting the Canon's Multifunctional Device ImageRUNNER ADVANCE GEN 3 Series. The user interphase of the device is connected direct to the MobileWork 2.0 Platform to support Cloud Print, Cloud Scan and Scan-to-Workflow (such as uploading documents, bills and doctor's certificates directly to a specific workflow) features, providing a flexible, automated RPA system that reduces approval wait time, simplifies business flow and reduces manual operations, so as to improved work efficiency and more efficient allocation of resources.
Many enterprises have gone mobile with their business operations model to optimize resources, supporting solutions also call for a change in order to more effectively utilize resources in a comprehensive manner. Canon's Resource Management Solution allows reservation of empty rooms and even independent workspaces at any time, it also can make the space available for others use upon cancellation or no-shows. In addition, the solution can be matched with interactive panels or Canon projectors with various projection distances. The interactive panel can be connected to up to four mobile devices at once and sync reporting and sharing information across them. The electronic whiteboard feature allows the speaker to take notes using a SmartPen on their screen or capture the current displayed screen, and outputting it as an image or another electronic format for sharing with participants, whether they are present or not.
Canon's technological solutions help enterprises stay ahead of the innovative curve, allowing them to focus on their core operation, develop their Internet of Things (IoT) through leveraging mobile solutions, and be inline with Hong Kong's vision of developing into a Smart City.
INNOVATION - Imagining Infinite Possibilities Through Technology
The evolution of technology creates artistic diversification, uncover the potential of creativity and breakthrough the traditional ways in various aspects.
Canon inkjet printing employ advanced fluid dynamics technology to accurately control ink distribution and recreate the expected printing effect. The advancement of technology opens up another door for the artistic realm. When Johannes Vermeer's Girl with a Pearl Earring had to be taken out of display for maintenance and repair, flat replica is simply incomparable to replicate the intriguing depth of its touch. With the Elevated Printing technique on Canon's Océ Arizona UV Flatbed Printing System, the full color range and realistic 2.5D touch of such a delicate artwork can be reproduced. Viewers can experience the masterpiece not alone by looking at it, but also touching every detail of the replica that is almost identical to the original for inspiration. The system's capabilities are not limited to paper, materials include ceramic tiles, wooden boards and glass can also be printed and applied into businesses including construction, interior design, decor, outdoor advertising and packaging for infinite possibilities.
Additionally, personalization has been the biggest trend. Canon imagePRESS C10000VP is a flexible, high speed digital production printing system, produces offset-like and consistent quality vibrant output that is made possible by the built-in auto color calibration function. Digital printing also perfectly fits the current market trend of print-on-demand, giving companies the flexibility to print proposal, invitations and advertisements depending on specific requirements. Hence, creating infinite business opportunity.
SUSTAINABILITY - Promoting Sustainable Development
The corporate philosophy of Canon is kyosei (meaning "living and working together for the common good"). Its innovative products and technologies help enterprises increase business productivity and achieve sustainable development at the same time. HKEx's Environment, Social and Governance (ESG) standards for listed companies are having an increasing impact in the business world, and Canon's technologies can help corporations to go green and attract potential investors.
Both small and large enterprises are trying to cut unnecessary use of paper, and employing Canon's Output Management Solution uniFLOW is a big step towards eco-printing. The solution also links up with mobile printing to effectively manage printing and integrates with Microsoft Power BI to combine printing data and big data for further analysis. It also supports physical authentication cards and even eCards on mobile devices to login and print securely from Canon's Document Management System (Secure Print), the level of security is brought to a next level as the system allows users to select and delete documents before printing, so as to saving unnecessary printing expenses. The solution also incorporates usage reports which facilitates internal management.