FUJIFILM Business Innovation Hong Kong announced the winners of the 14th Innovation Print Awards (IPA) 2021. The annual competition honors the most outstanding and innovative users of Fujifilm graphic communication solutions across the region with a total of 248 entries received this year from Australia, China, Hong Kong, Indonesia, Japan, Malaysia, New Zealand, Singapore, Taiwan, Thailand, and Vietnam.
The award welcomed entries of digitally printed communications created on any FUJIFILM Business Innovation or Fujifilm products. Out of 28 winning entries, 22 entries were printed using the IridesseTM Production Press. The winning entry of the "Best Innovation Award" from Art Book Coop. online in Japan was printed on both IridesseTM Production Press and FUJIFILM Jet Press 750S. Entries were judged based on the works submitted, and details of the individuals behind the submissions including name and company were kept from the judging panel.
A panel of independent judges with print and design expertise, and regional judging experience in print competitions were at the heart of these awards. They include head judge, Paul Callaghan, and member judges, Major Wong Wing Kwong and Sarah Tang. Paul Callaghan holds several leadership positions in the print industry such as chairman of the Regional Asian Packaging Conference and chairman of the Asian Print Awards committee since 2001. He is also a publisher at Print Innovation Asia magazine, the region's only print industry magazine. Major Wong Wing Kwong was the past President and General Secretary of the previous Institute of Printing (Singapore), and has extensive experience as a print consultant and judge in local and regional print awards. Sarah Tang is the co-founder of Sarah and Schooling, a graphic design practice that supports local publishers in Singapore and she is an adjunct lecturer at the prestigious Nanyang Academy of Fine Arts (NAFA).
"We are simply in awe with these amazing colors and would not have seen them just a few years back," said Paul Callaghan, Head Judge of the Independent judging panel. "The sheer highlights of Gold, Silver and Pink simply stood out in this year'scompetition, and we were heartened to see businesses adopting new technology and applications. The judging process is definitely tougher than previous years, as the entries received this year are truly world-class."
"When it comes to design, I have to look at the entry in its entirety – it's  not just about the visual aesthetics. Rather, it'sabout how well the concept is executed. It's about effective communication," said new judge, Sarah Tang, Co-founder of Sarah and Schooling. "Graphic designers will have to update themselves with new technologies and tools to bring out the best for their clients."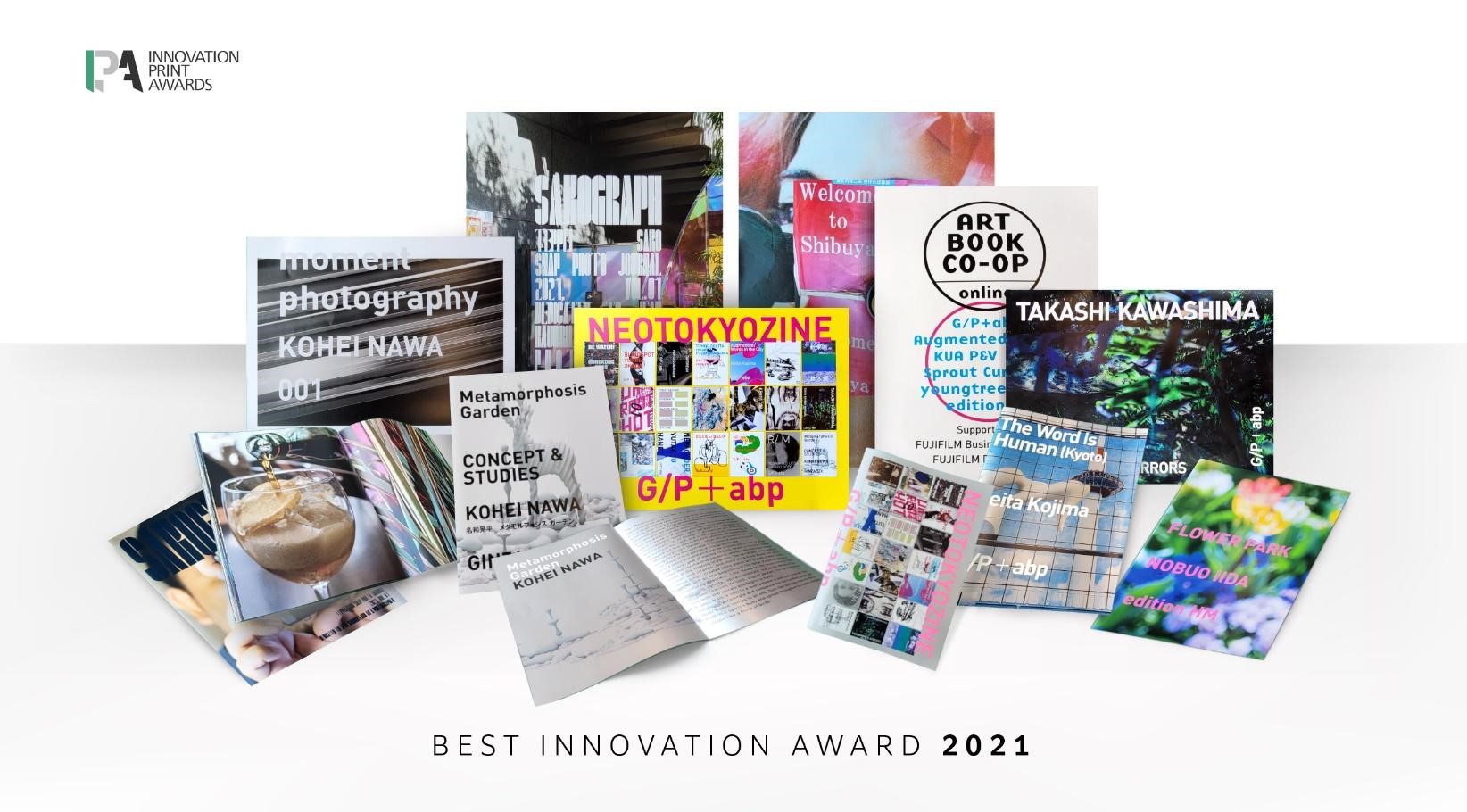 Innovation Print Awards 2021 – "Best Innovation Award" 
Winner Art Book Zine products with Digital press technologies from Art Book Coop. online, Japan
"The winner of the Best Innovation Award contains exceptional design creativity while applying technological ability to raise the bar once again," said Scott Mackie, General Manager, Graphic Communications Business Group at FUJIFILM Business Innovation Asia Pacific. "From the materials, metallic duotones, beautiful photography and simple complexity of print, it is truly a fantastic piece of work, made to look easy. We would like to thank our customers for their hard work and taking time to make a submission. I'm very encouraged to see the remarkable quality of entries submitted this year. The works really exuded boundless creativity and showed everyone'spersistent drive for innovation."
The winning entries will be showcased in the FUJIFILM Business Innovation Graphic Communication showroom in Tokyo, Japan and in regional Graphic Communication industry events. To further profile these talents, FUJIFILM Business Innovation Asia Pacific Pte. Ltd. will submit all entries Note 1 to the Asian Print Awards.